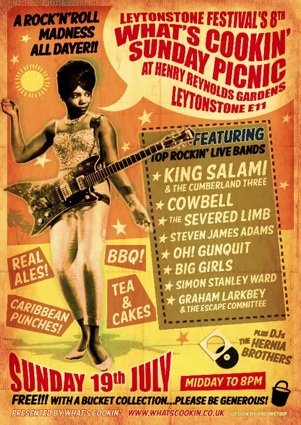 Sun 19 July
8TH ANNUAL WHAT'S COOKIN' PICNIC
Henry Reynolds Gardens, Browning Rd
12 noon – 8pm / free with collection
King Salami & The Cumberland Three / The Severed Limb / Oh! Gunquit / Steven James Adams / Simon Stanley Ward Band / Graham Larkbey & The Escape Committee & more
Live music all day in the lovely surrounds of Henry Reynolds Gardens. It's our 8th year, and every year it gets better and better. Real ales, Caribbean punches, food stalls, BBQ, tea & cakes will all be available, but feel free to bring your own picnic hampers, sarnies, blankets, suncream and/or brollies…and we'll supply the rock'n'roll! Sunshine has been ordered in advance.
King Salami & The Cumberland Three
up-tempo party stompin' rhythm'n'blues played according to the basic principles of the old London school of Trash.
The Severed Limb
Skiffle rock'n'roll, gypsy ska, cumbia, and rhythm'n'blues from Severed Limb.
In May 2012 The Severed Limb played to a full house at the Royal Albert Hall opening for Imelda May.www.theseveredlimb.co.uk
Oh! Gunquit
Oh! Gunquit are a 5-piece band concocting rumble bop trash rock'n'roll. These neo-surf garage rockers are B-52s meet Roxy Music at a party thrown by The Cramps!  www.ohgunquit.bandcamp.com
Steven James Adams
After The Broken Family Band & Singing Adams, Steven James Adams continues to produce brilliantly emotive music.
www.stevenjamesadams.com
Simon Stanley Ward Band
Simon Stanley Ward is a sharp-witted and knowing singer with a distinctive and unique high nasal voice that hits the spot on his self-penned country folk songs.  www.simonstanleyward.com
Graham Larkbey & The Escape Committee
The Escape Committee are local boys who play pub rock like its 1975 and they're an annual fixture at the picnic!