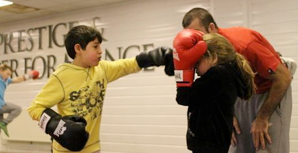 Sat 18 July
BOXCODE
Cann Hall Baptist Church, Cann Hall Rd
2pm – 5pm / free
Bring your kids to a free training session of non-contact boxing, and/or have some digital fun at the public launch of a new CoderDojo, where children learn and teach each other computer coding.
Coding is part of the school syllabus and it's easy to pick up new skills, especially if you have a young brain. To make sure you have a go, bring a laptop if you have one.
Box4Life provides non-contact boxing for children and young people in Leytonstone on Tuesday & Fridays. We also run free English and Maths tuition for any members who are struggling at school.